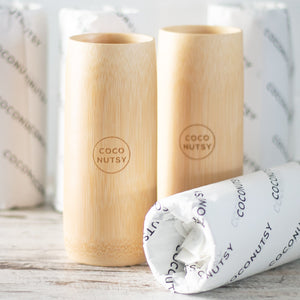 Buy Wholesale - 40% OFF RRP
Our zero waste bamboo cups are polished smooth and perfect for your smoothies, juices and cocktails.
Unit Pricing
Wholesale: $8.97 | RRP: $14.95

Bamboo cups are handmade from fast-growing, ethically sourced bamboo and are a perfect alternative to wasteful single use plastic cups.

Extremely strong, moisture resistant, heat tolerant, and dishwasher safe our bamboo cups are made for everyday use and can be enjoyed for years.
Size
📏 Height: 18cm, Width: 6.5cm, Volume: 480ml
If you would like to purchase more than 20 units please contact us here  for our complete list of wholesale rates.