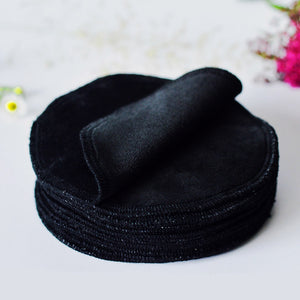 Minimal fuss makeup removal, every day. Reusable Makeup Pads easily remove makeup with only water, replacing up to 500 traditional makeup wipes.

Our reusable makeup remover wipes are made with soft microfibre to ensure your entire face is free from residual makeup and allows for a deep and thorough cleanse.

Kind on sensitive skin, reusable makeup pads reach deep into your pores to remove dirt and makeup without harsh scrubbing and are ideal for cleansing, removing makeup, micellar water, toning and face mask removal.

Lightweight and convenient, our portable set can go in your travel bag, gym bag or luggage for effective makeup removal and clean skin on your day out.
Reusable Makeup Pad Features
Black fabric to hide makeup stains and discolouration.
Ideal to team with your favourite cleanser or toner.

Activates and thoroughly removes makeup using only water.

Say goodbye to single use cotton pads.

Reusable and machine washable.

No chemical cleansers required.

Suitable for sensitive skin.

Machine-washable.
Replaces up to 500 makeup wipes.
Eco-friendly and non-toxic.
Size:
9cm diameter. Perfect size for removing makeup.
Made from bamboo microfibre.
Care Information:
Cold wash, line dry. Rinse out and hang to dry after each use.

How to use makeup remover pads

Reusable pads are used in pretty much exactly the same way as their single-use counterparts. You can apply your product of choice to your face and wet the pad to gently remove it. Or squirt your product directly onto the pad and apply to your face that way.