Keto Chocolate Smoothie Bowl
This easy keto chocolate smoothie is a creamy, frothy, and thick keto breakfast shake for chocolate lovers with only 4 grams of net carbs! (ignore the toppings in the photo :D)
Plus, this keto smoothie with almond milk is also dairy-free, gluten-free, and sugar-free, made without frozen bananas!
HOW TO MAKE A KETO CHOCOLATE SMOOTHIE
A keto chocolate smoothie has no banana. While bananas are often used to thicken smoothies, they also contain a lot of natural sugar not suitable for a keto diet or for diabetics.
Therefore, the trick to making a thick, creamy keto breakfast smoothie with chocolate flavour is to use ripe avocado.
Avocado is naturally creamy, bland in flavour when combined with cocoa powder, and adds the perfect thickness to keto smoothie recipes.
INGREDIENTS
½ Ripe Avocado
1 cup Unsweetened Almond Milk
1 ½ tablespoon Unsweetened Cocoa Powder
2-3 tablespoons Erythritol or 8-10 stevia drops
1 teaspoon Chia Seeds or hemp powder
⅔ cup Ice Cubes
½ teaspoon Vanilla Extract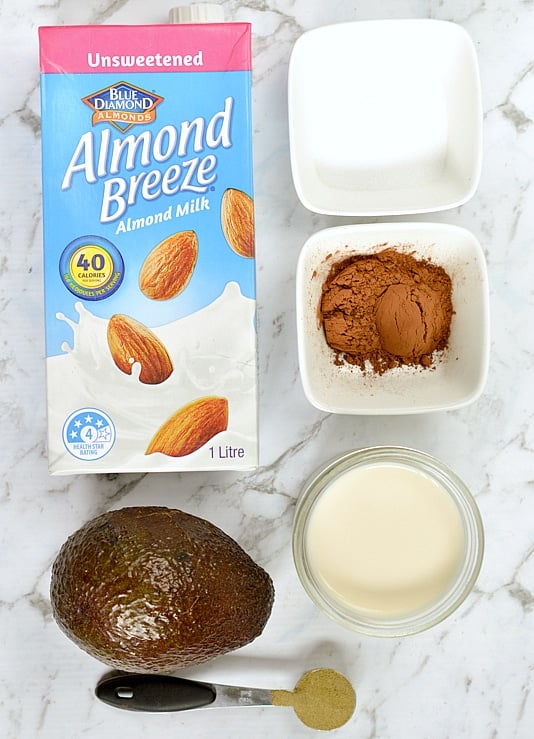 METHOD
Add all the ingredients into a blender. The order doesn't matter. Make sure you are using ripe avocado with no black spots on its flesh, or the smoothie will taste bitter.
Blend at high speed for 45 seconds to 1 minute, stop the blender and taste your smoothie.
Adjust texture and sweetness if desired. If you like your smoothie sweeter, add extra erythritol or few vanilla stevia drops. You can also add 2 or 3 extra ice cubes to thicken your smoothie.
Blend again until smooth and serve immediately.
Using frozen Avocado is the best idea to add an extra boost of creaminess to your keto chocolate smoothie. In fact, frozen avocado acts like frozen bananas in drinks, and it's the best keto smoothie thickener.
However, if you use frozen avocado, reduce the number of ice cubes, or the drink will be too thick and turn into a smoothie bowl.
Get Your Own Set Of Coconut Bowls