Dragon Fruit Smoothie Bowl
Dragon Fruit Smoothie Bowls are a perfect breakfast, snack or dessert. Dragon fruit is full of antioxidants, and is a low calorie, nutrient dense fruit. A pitaya bowl is a great vegan or paleo breakfast option.
INGREDIENTS
Dragon Fruit (also called Pitaya)
Banana
Mango
TOPPINGS
Nuts and seeds
Flaked coconut
Fresh fruit (kiwi, raspberries, blueberries, strawberries)
Cacao Nibs or shaved Dark Chocolate
Nut Butter
METHOD
Chop dragon fruit and mango into small dice-sized cubes, and slice bananas, and freeze them solid.

I like to freeze them overnight, but you can freeze them faster if you have a deep freeze.

Add frozen fruit and a splash of coconut or almond milk to your blender.

Process until the fruit fluffs up and is a soft serve consistency.

Fill your coconut bowls with dragon fruit smoothie, and top with fresh fruit, coconut, nuts or nut butter.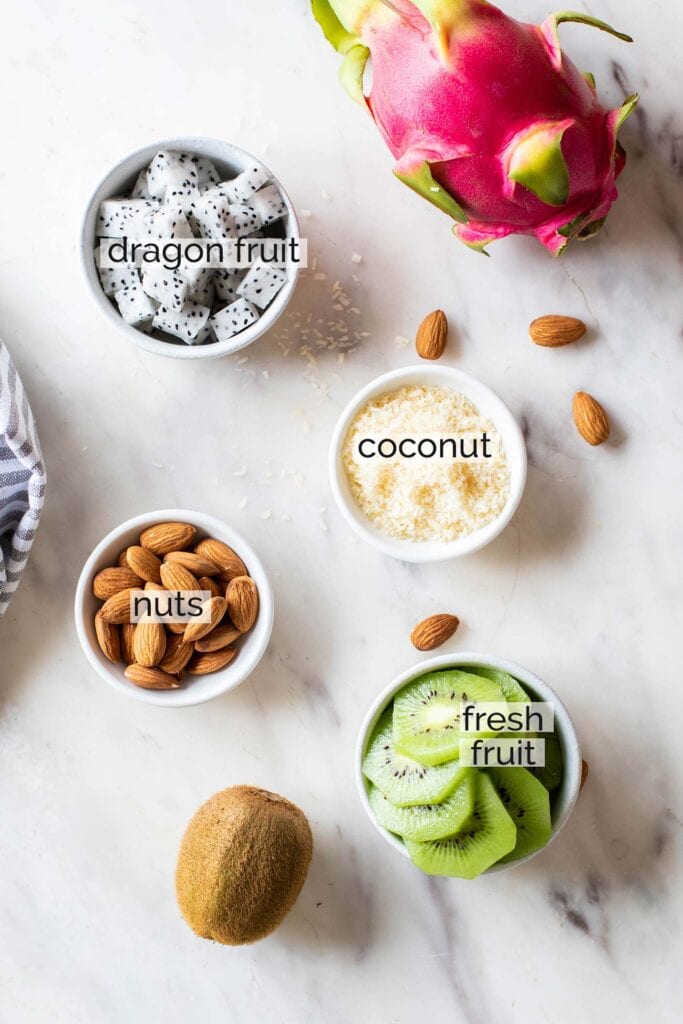 I love adding toppings for flavour and texture! Try adding: 
Fresh fruit (like chopped white dragon fruit, kiwi, berries, or bananas)

Toasted Coconut Granola

Almond Butter or my Toasted Pecan Almond Butter

Dark chocolate chips or Cacao Nibs

Unsweetened coconut flakes

Almonds, walnuts, hemp seeds or pumpkin seeds
Get Your Own Set Of Coconut Bowls