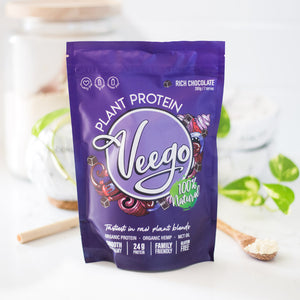 Rich Chocolate Veego Plant Protein powder is for all the dark chocolate lovers amongst us, smooth, creamy and not too sweet!
It's a complete vegan protein that is easily mixed into smoothies, slices, pancakes or shaken with water and is beneficial for your inner and outer health.
BENEFITS
Helps you tone & build lean muscle.
Keeps you fuller for longer.
Smooth and creamy texture.
Source of vitamins, minerals and antioxidants.
Protein necessary for tissue repair.
100% natural with no artificial flavours.
Helps satisfy your hunger.
Perfect for smoothies and workout drinks.
Vegetarian and Vegan friendly. 
ABOUT THE BLEND
This blend contains 3 powerful organic plant-based proteins that are 100% plant-based, gluten free, dairy free, family friendly and made right here in Australia! Click here to learn more.