ECO-FRIENDLY GIFTS THAT WILL BRIGHTEN UP ANYONE'S HOME
There are a ton of wonderful gifts out there that fit the eco-friendly bill. To give you a hand, we've pulled together some of our favourite eco-friendly gifts we love that are making strides for a more equitable, sustainable world.

More and more people are embracing sustainable living and developing a preference for eco-friendly products. So it makes a ton of sense to choose a gift that reflects that eco-conscious mindset. Moving into a new home, apartment or even dorm room marks a new chapter in someone's life, so it's only fitting to help them celebrate by giving a housewarming gift!
Natural Candle Gifts
Soy candles are all the rage these days, and for good reason. They produce negligible soot, they're made of natural oils and not paraffin wax, and what's even better - they burn for longer than their paraffin wax-counterparts.
SHOP CANDLE GIFTS
House Plants & Planter Gifts
Plants are the perfect addition to an eco-friendly space to truly give it that green touch. In an instant, they brighten up the atmosphere of a home, filter out impurities, and create the perfect natural-inspired look.
Reusable, biodegradable, and totally natural
Our range of eco friendly gifts are 100% zero waste. Not one single piece of material from your purchase will need to go to landfill, and can instead be reused, recycled, repurposed or composted.

We choose organic & natural ingredients over synthetic & chemicals. We choose vegan and cruelty free, and we choose products where workers rights have been respected and considered throughout the whole process. Zero-Waste Housewarming Gift
This is the perfect gift for a new home or for someone that wants to deck out their kitchen in eco-friendly goodies.

A good rule of thumb is to focus on items that are functional and needed . Whenever I shop for a housewarming gift, I always ask myself what I would want if I moved into a brand new home.

Wrapped in an eco-friendly Kraft gift box and comes with a gift card. If your purchase is a gift, and you would like a personal note included, please type your message in the gift message section.

THIS GIFT SET INCLUDES: Coconut Bowls, Bamboo Cups, Wood Spoons, Bamboo Straws, Husk Serving Rings, Coconut Candle, Bamboo Cutlery Set, Coconut Dish Brush, Coconut Husk Kitchen Cleaner, Smoothie Wooden Spoon, Message Card
SHOP NOW
Housewarming Gifts
Your gift will come in a stylish presentation gift box with optional greeting card.
When it comes to housewarming gifts, you can go the typical route and give the new homeowners a bottle of champagne, or you could be a bit more creative and give something that is a little more thoughtful.

Think stylish coastal home décor, elegant home fragrance and candles, natural planters and more, all made from sustainable materials. Shop new home presents online and impress your friends with free message card with your order.
SHOP HOUSEWARMING GIFTS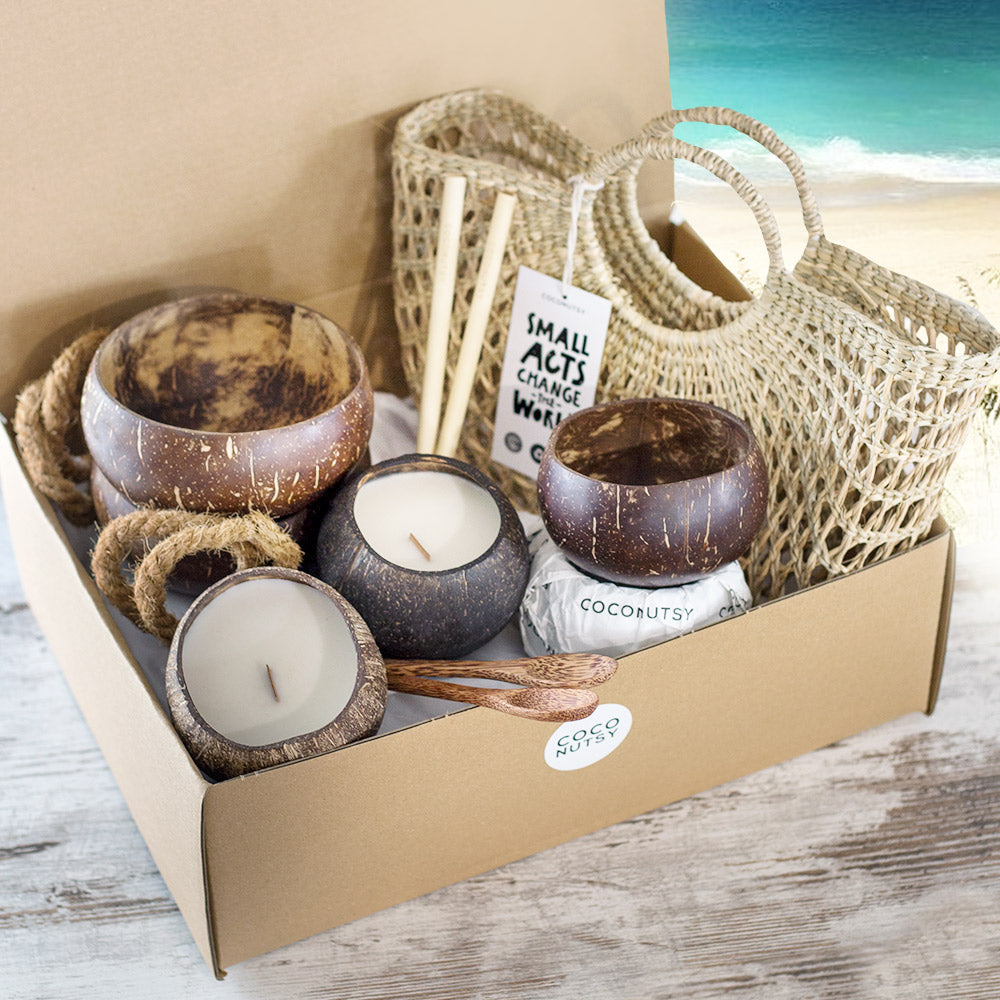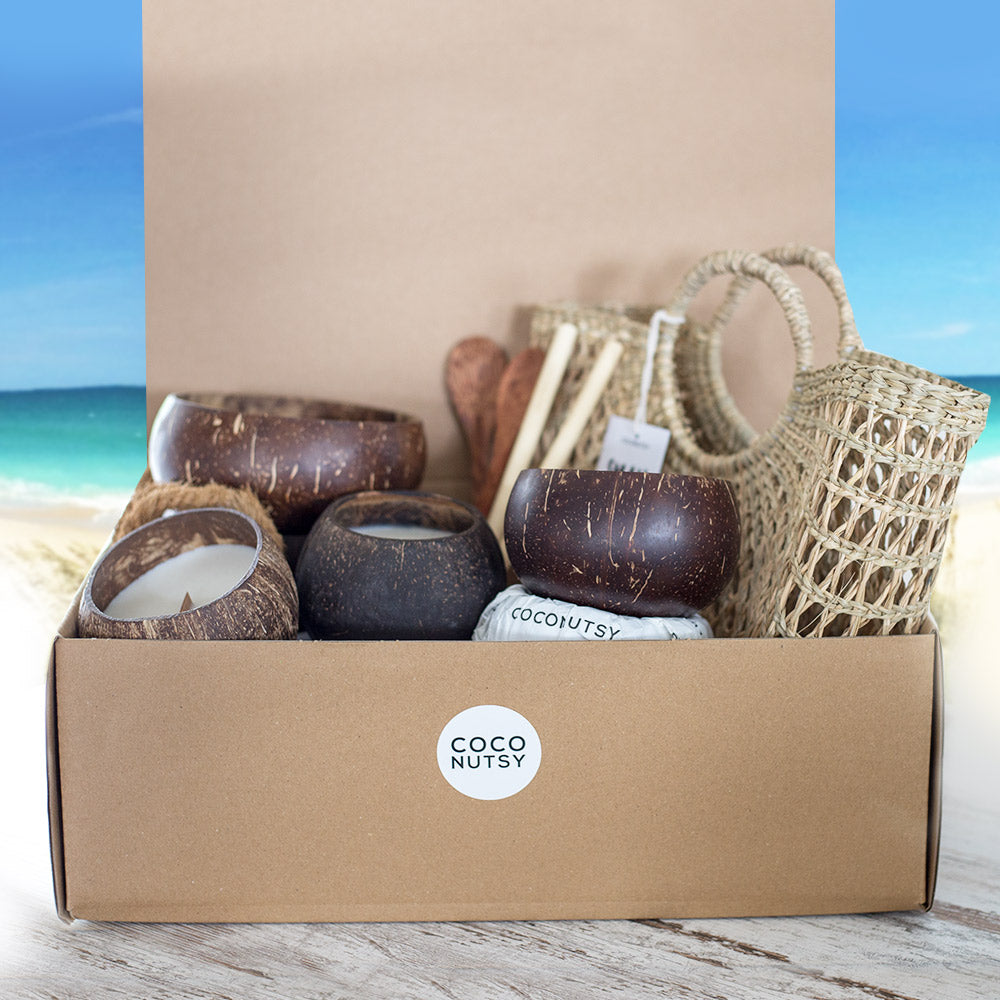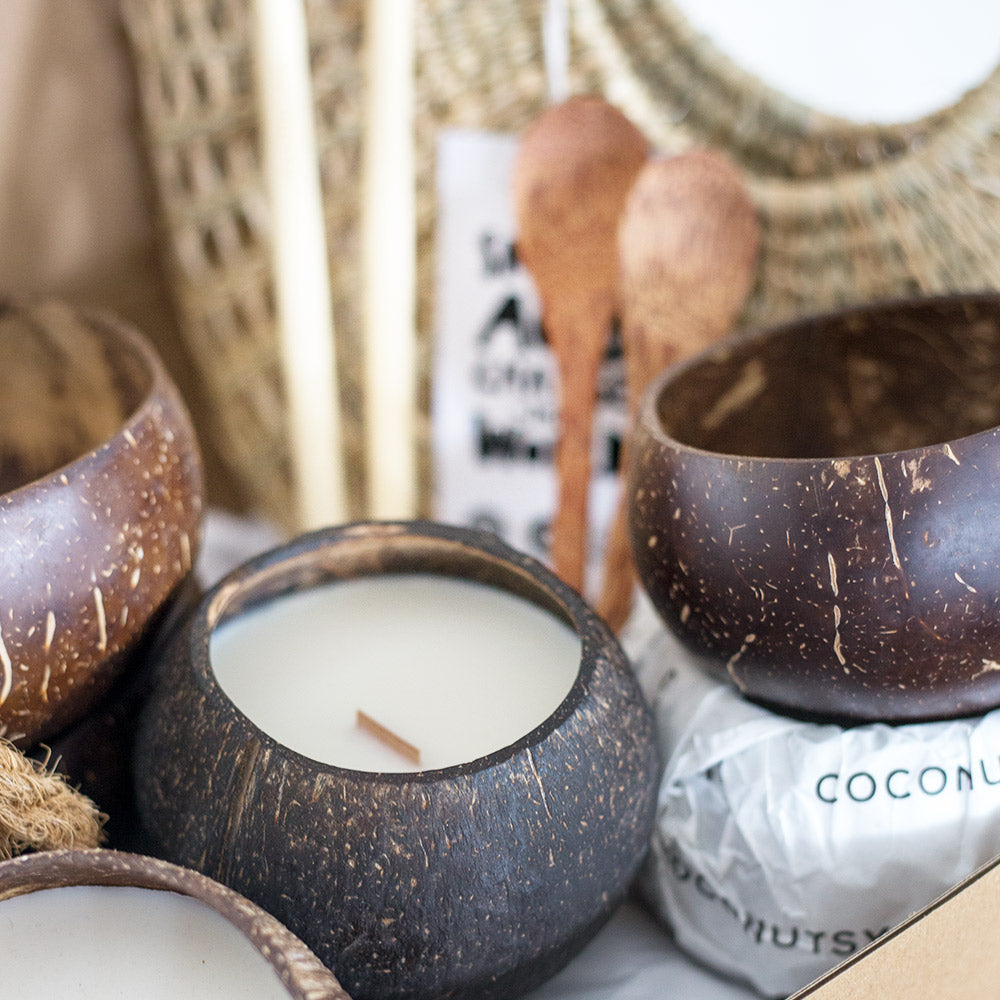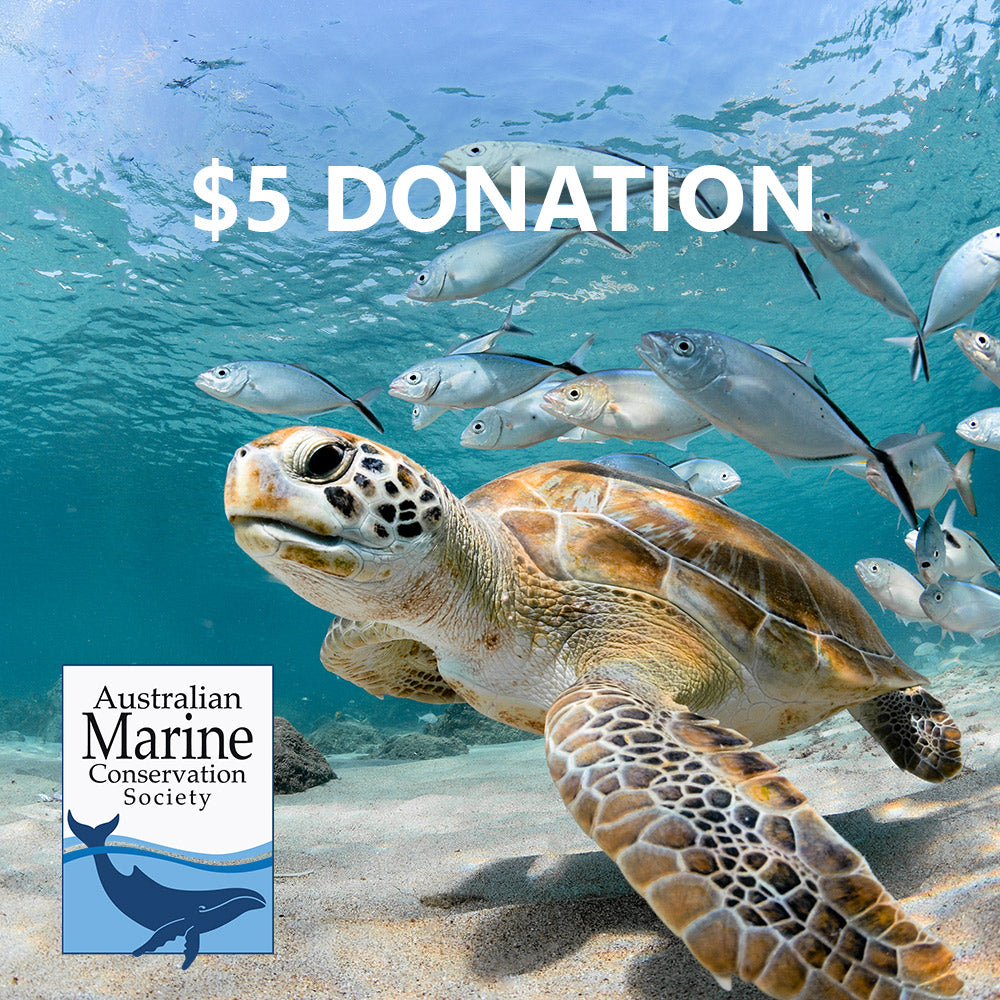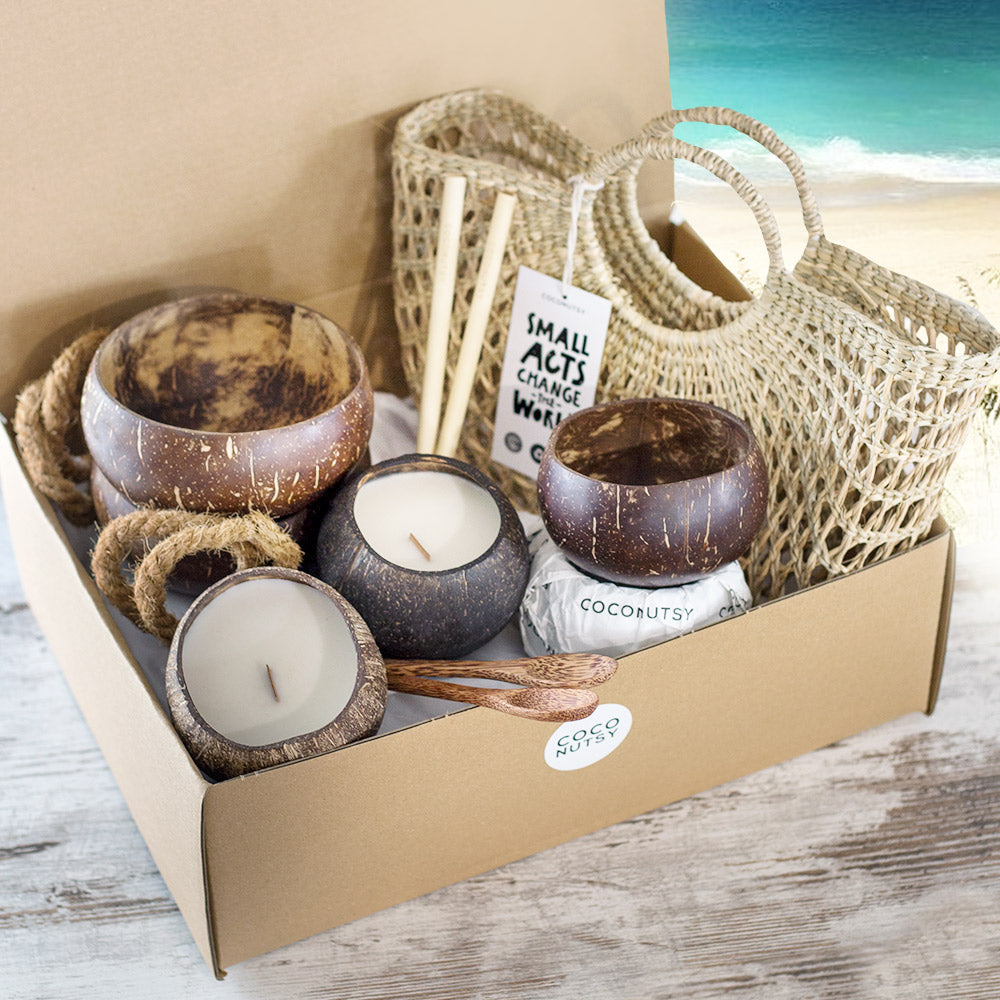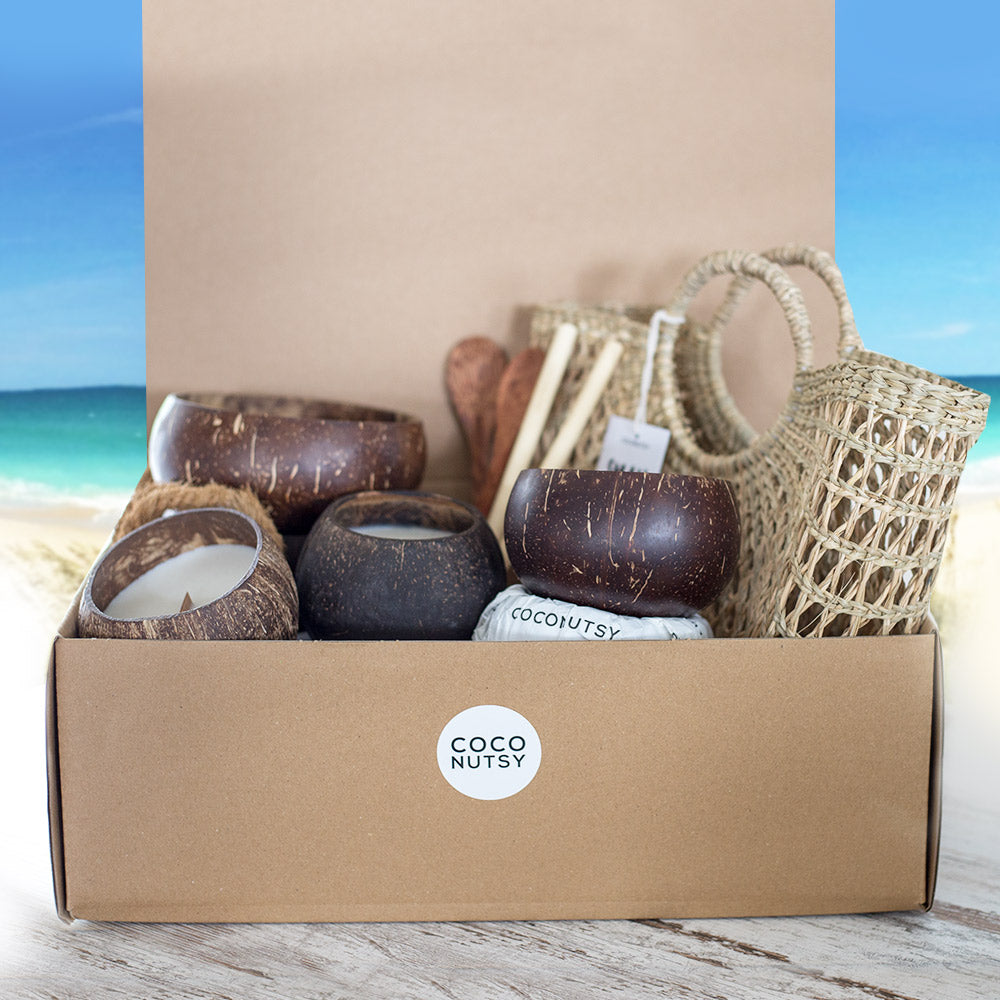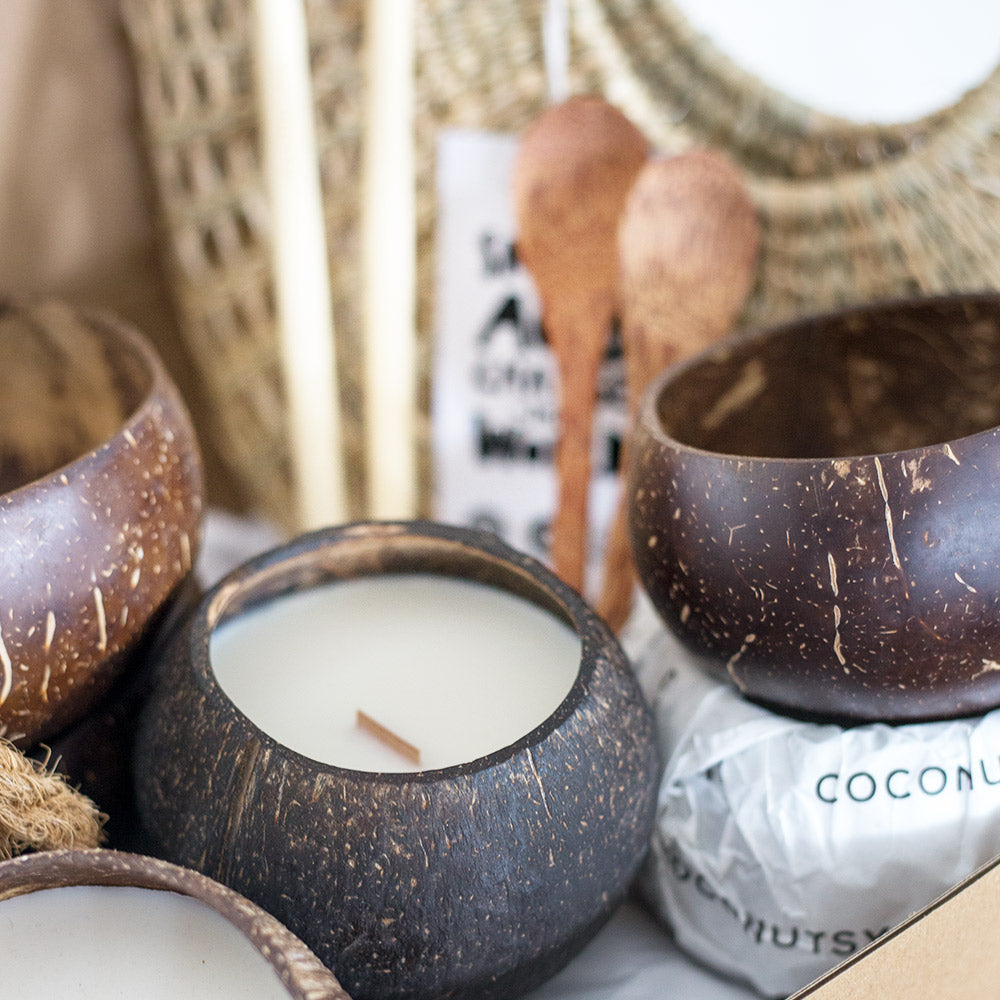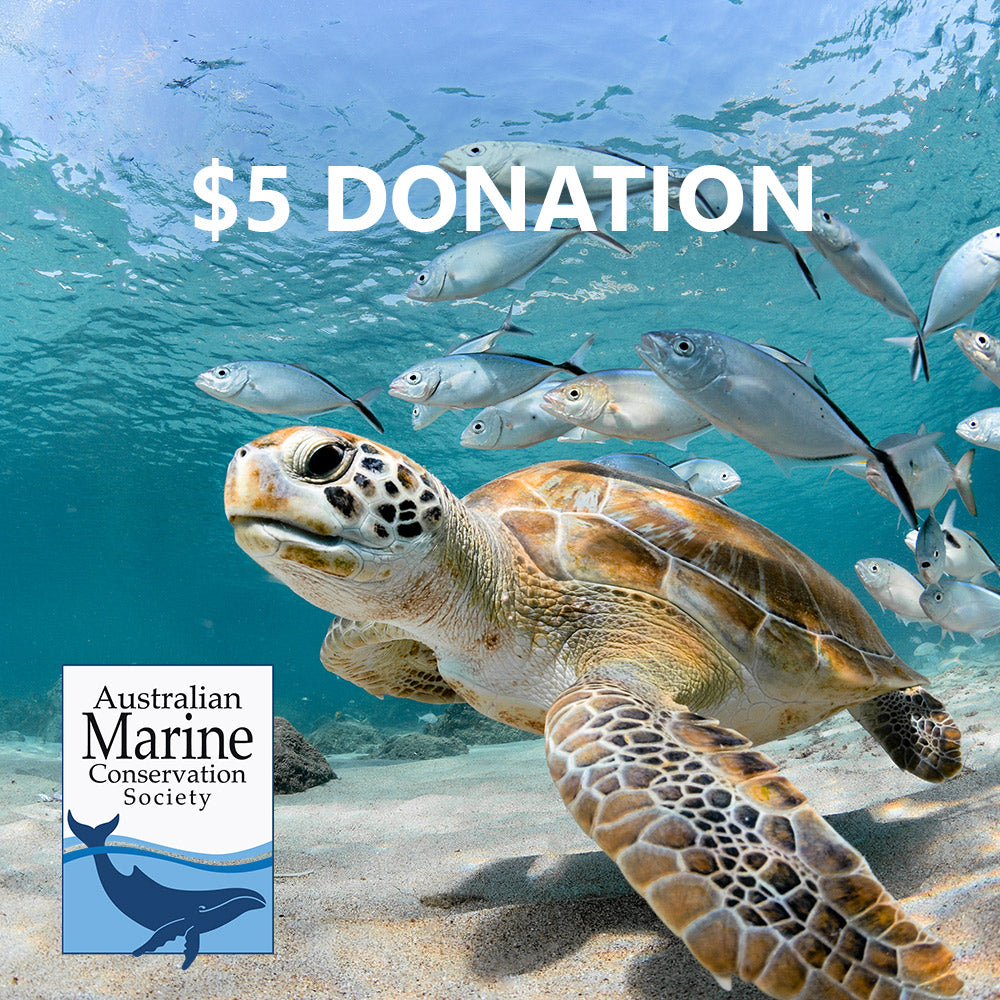 Beach Vibes Gift Box
Kick-start or ramp-up their eco mission with a Zero Waste Home Gift Hamper full of the handiest single-use swaps and reusable gifts for toxin-free and plastic-free living.

We've hand-picked our fav zero waste living products that tick all the boxes - plastic-free, nasty-free, sustainable, reusable, compostable and ethically curated by eco-conscious Australian businesses with minimal packaging.

To create a truly earth-friendly gift, the box and wrapping materials we've chosen for our Housewarming Gift Hamper are 100% recycled and recyclable.
SHOP NOW
When a loved one makes that big move, you definitely don't want to show up empty-handed. That said, finding the perfect house warming gift can be a daunting task if you don't have ideas on hand.

And while there's nothing wrong with a bottle of wine or a bouquet of flowers, you could go the extra mile and surprise the proud new homeowners with something more personal and useful.

The good news is you don't have to move mountains or search the globe to find amazing housewarming gifts that are practical, purposeful, and personal. In fact, you can find eco-friendly, zero waste options if sustainability is important to you.

Here are the best house warming gifts that the new homeowner (and the planet) will love:

1. Coconut Candles
Nothing brings a cosy, relaxing atmosphere to a new home like some candles! They also carry the meaning, "May you always have light through the darkest of times." Inspired by the spirit of tropical destinations, each of these coconut candles features a polished coconut shell hand-poured with soy-based wax.

Extensive burn times of up to 50 hours combined with incredible scents such as coconut, lime and vanilla chai will make these a favourite in the new home.

2. House Plants
Help the new homeowner add a bit of style and nature to their space with some greenery. If they have a green thumb, impress them with peculiar varieties like calathea, the silver vase plant and African mask plant. But if they're clueless about plant parenting, stick to low maintenance options like succulents that lend colour and texture to any home (without becoming a burden).

3. Coconut Shell Planters
When you find the perfect plant to gift your loved one, make it look extra special with a coconut hanging planter – a hanging pot made from upcycled coconut shells. Great for indoor and outdoor plants, each hanging planter comes with drainage holes to keep the plant well-drained and a strong woven jute cord so you can hang them up easily. These natural planters are a wonderful alternative to plastic pots which often end up in landfill.

4. Coconut Bowl Gift Set for Two
A coconut bowl set is an excellent way to help a new homeowner become more sustainable. It has everything they need for cereals, yogurts, fruits and soups, including two sets of cups, bowls, spoons, straws, forks and chopsticks.

The set is made from natural and sustainable materials such as coconut shells, bamboo and wood, so it's incredibly light but remarkably strong.

5. Coco Table Centrepiece
This charming and rustic centrepiece can transform the new homeowners living or dining room table, into a Zen-inspired tablespace. The new homeowners will be thrilled to see all the gorgeous items in the decorative set which consists of a toasted coconut soy candle, coconut & lime soy candle, tea light holders, a bamboo cup and a sea grass round tray.

Whether they have a modern, farmhouse, country or Boho Chic style, this natural table centrepiece is bound to look good on their table.

6. Let's Go Eco Gift Hamper
Moving into a new home is a lot more fun when you have some cool household goodies. It's even better if they're sustainable and plastic-free like the items in the all-in-one Let's Go Eco Gift Hamper.

It's packed with fantastic home essentials including coconut bowls, cups, wooden cutlery, kitchen cleaners, konjac face sponge, a toasted coconut candle, coconut candle holder and a pink message card to boot.

7. Noosa Beach Bag Set
If the gift recipient loves the outdoors, the Noosa beach bag set is guaranteed to make their lazy beach days a delight, especially after the stress of a big move. What's great about it is that it's not riddled with single-use-plastic that harms marine life. Instead, it comes with a pair of bamboo cups and straws so your loved one can enjoy their pina coladas, mojitos or mocktails free from throwaway plastic.

8. The Tropics Message Card
A gift is never complete without a heartfelt message. Tell your friends or family how happy you are for them by writing some kind words on this greeting card inspired by the tropics of north Queensland.

You can pair it with any of the gifts mentioned above to make a real impact. Each card is printed on recycled paper and uses soy and vegetable based inks, which are kind to the skin and the earth.

Wrapping Up
A thoughtful housewarming gift can help make a new space feel like home. Thankfully, there are plenty of options that are not only unique but also functional and aesthetically pleasing.

By choosing these sustainable and eco-friendly house warming gifts, you can make sure the presents you give your friends and family bring joy and don't have an adverse impact on the environment.